Human Trafficking: Protecting the Most Vulnerable
Tuesday, October 10, 2023
9:30 AM - 12:30 PM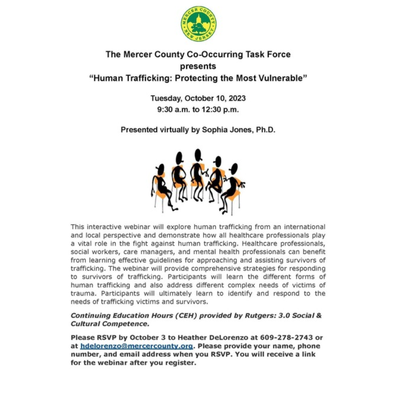 The Mercer County Co-Occurring Task force presents "Human Trafficking: Protecting the Most Vulnerable"
Tuesday, October 10th 9:30-12:30 PM
Presented Virtually by Sophia Jones, PhD
This interactive webinar will explore human trafficking from an international and local perspective and demonstrate how all healthcare professions play a vital role in the fight against human trafficking. Healthcare professionals, social workers, care managers, and mental health professionals can benefit from learning effective guidelines for approaching and assisting survivors of trafficking. The webinar will provide comprehensive strategies for responding to survivors of trafficking. Participants will learn the different forms of human trafficking and also address different complex needs of victims of trauma. Participants will ultimately learn to identify and respond to the needs of trafficking victims and survivors.
Continuing Education Hours (CEH) provided by Rutgers: 3.0 Social and Cultural Competence.
RSVP by October 10th to Heather DeLorenzo 609-278-2743 or [email protected]. Please provide your name, phone number, email address when you RSVP. You will receive link for webinar when you register.
Last Updated: 09/14/23