Let's Talk Opposition in Adolescence
Friday, September 29, 2023
9:30 AM - 12:30 PM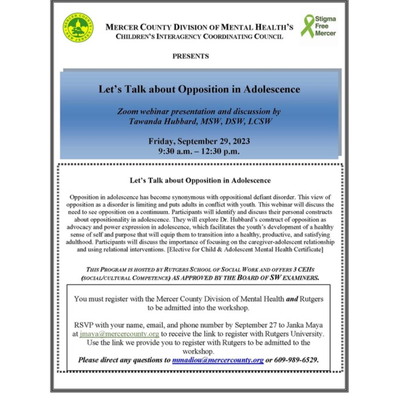 Webinar presentation and discussion by Tawanda Hubbard, MSW, DSW, LCSW
Opposition in adolescence has become synonymous with ODD. This view of opposition as a disorder is limiting and puts adults in conflict with youth. This webinar will discuss the need to see opposition on a continuum. Participants will identify and discuss their personal constructs about oppositionality in adolescence. They will explore Dr. Hubbard's construct of opposition as advocacy and power expression in adolescence, which facilitates the youth's development of a healthy sense of self and purpose that will equip them to transition into a healthy, productive, and satisfying adulthood. Participants will discuss the importance of focusing on the caregiver-adolescent relationship and using relationship interventions.
*This program is hosted by Rutgers School of Social work and offers 3 CEHs as approved by Board of SW examiners.
Friday, September 29th, 2023, 9:30-12:30 pm
Must be registered!
RSVP with your name, email, and phone number by September 27th to Janka Maya: [email protected]
Community Services

Community

Family & Support Services

Health Services

Behavioral / Mental Health
Last Updated: 08/23/23