First-Time Homebuyers' Workshop
Saturday, September 30, 2023
8:45 AM - 4:00 PM
Trenton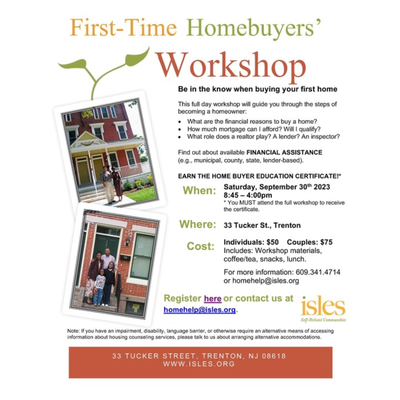 Be in the Know when buying your First Home
This full day workshop will guide you through the steps of becoming a homeowner:
What are the financial reasons to buy a home?
How much mortgage can I afford? Will I qualify?
What role does a realtor play? A Lender? An Inspector?
Find out about Financial Assistance (eg municipal, county, state, lender-based).
Earn the Home Buyer Education Certificate!* (must attend full day to receive certificate)
When: Saturday, September 30th 8:45-4pm
Where: 33 Tucker Street Trenton
Cost: $50/person or $75/couple - Includes: Workshop, Materials, Coffee/Tea, snacks, lunch
For More Information: 609-341-4714 or [email protected]
Event Type

Family Support
Educational Workshop

Age Groups
Community Services

Community

Family & Support Services
Last Updated: 09/14/23