Mercer County Children's Interagency Coordinating Council (CIACC) IDD Community Cafe
Friday, June 15, 2018
10:00 AM - 1:00 PM
Hamilton
This event has already occurred!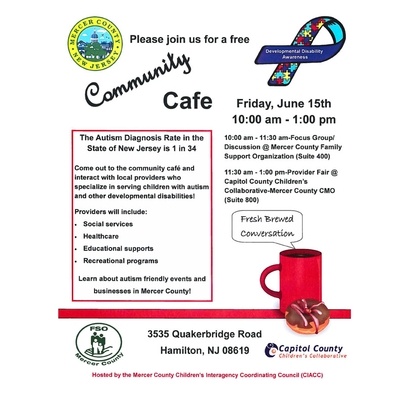 Mercer County Children's Interagency Coordinating Council (CIACC) will host a Community Café on Friday, June 15th from 10:00 am – 1:00 pm, beginning at Family Support Organization (FSO) Suite 400, 3535 Quakerbridge Road, Hamilton, NJ 08619 (10:00-11:30), and concluding at Capitol County Children's Collaborative (CMO), Suite 800 (11:30-1:00).
Parents and Family members are encouraged to come out to the Community Café and interact with local providers who specialize in serving children with autism and other developmental disabilities! All are Welcome!!
The first part of the day, from 10am-11:30am, will include a focus group and a discussion at Mercer FSO. The second part of the day, from 11:30am-1pm, will include a Provider Fair at the CMO.
Below are some of our Service Providers who will be present for the Provider Fair
Mr. Gaven, Key of Awesome Music
Autism Family Services of NJ
Nicole Pratt from SPAN
Jacqueline Darby – Law Advocate - Community Health Law Project
Phoenix Programs
Children's Specialized Hospital
POAC
Advancing Opportunities
Brain Builders
Bounce U and Pump It Up
Patti from Rainbow Children's Medical Daycare
We Care Special Sports/Schafer Sports with Christine Stier
SPAG – Special Parent Advocacy Group
PCIL – Progressive Center for Independent Living
Schafer Sports
Sidekicks – Respite Care
The Arc of New Jersey
Riverside Pediatric Medical Day Care
Adorn Beauty Center & Spa (with their Service Dogs)
All are welcome!
Age Groups

Children
Adolescents
Adults

Community Services

Arts & Recreation

Community

Education

Employment / Training

Family & Support Services

Legal / Advocacy

Health Services

Behavioral / Mental Health

Crisis / Safety

Intellectual and Developmental Needs

Medical

Treatment Services

In-Community Services

Outpatient Services

Treatment Settings

Home
Hospital / Clinic
Office / Practice
Last Updated: 06/05/18