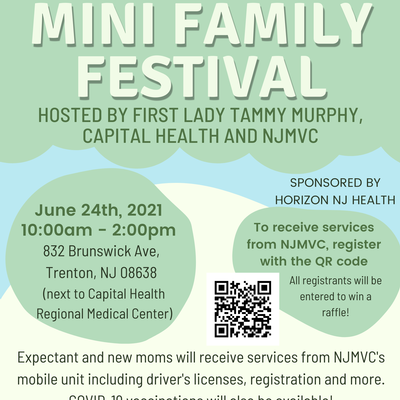 In 2018, the First Lady, Tammy Murphy, developed her Family Festival series to connect families with state, county, and local programs and resources, as part of her Nurture NJ initiative. Since then, we have connected over 5,550 families in seven cities with nearly 600 providers.
The pandemic put the Family Festival series on hold, but we have recently relaunched the festivals with mini events. These "mini Family Festivals" are held in partnership with NJMVC and FQHCs and hospitals across the state. Since transportation is a major social determinant of health, these mini Family Festivals focus on connecting new and expectant moms with services from NJMVC, like driver's license renewal, REALID, registration renewal, etc.
The event is welcome to all, but the NJMVC services are exclusive to moms who have registered with the QR code in the flyer.
There will be multiple resources and tables set up during this event. Please share this flyer and encourage new and expectant moms to register if they are in need of NJMVC services.