Arm In Arm
(609) 396-9355
Trenton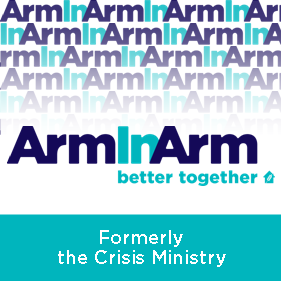 Arm In Arm, formerly The Crisis Ministry of Mercer County, helps Mercer County families meet their basic needs to achieve stability.
Food: Arm In Arm operates three food pantries located in Trenton and Princeton. Mercer County residents are welcome to shop at any two of our locations each month. Our pantries are choice-model, which means those coming for food may make their own grocery selections within each food group based on their family size. Arm In Arm also offers home grocery delivery to seniors living in certain affordable housing communities in Princeton and Trenton.
Housing: Arm In Arm helps neighbors in need stabilize their housing through security deposit assistance, back rent or foreclosure support, and utilities assistance. Households with complex barriers to stability may be referred to our housing stability case management program for longer term support. Arm In Arm also offers financial literacy and budgeting sessions to those seeking housing assistance.
Work Readiness: Job seekers can get support as they prepare to enter or return to the workforce through Arm In Arm's workforce development and license to succeed programs. Arm In Arm's Community Work Experience Program (CWEP) provides participants with hands-on retail and customer service experience in our food pantry as well as support through the job-search, resume writing, and interview process. The License to Succeed program helps job-seekers who have lost their drivers licenses to regain their driving privileges so they can access more and better paying jobs.
Eligibility
Our services are open to Mercer County residents. Please visit www.arminarm.org for specific program requirements.
Community Services

Basic Needs / Assistance

Community
Last Updated: 05/16/18