A Sylvan Learning of Mercer County
(609) 588-9037
Hamilton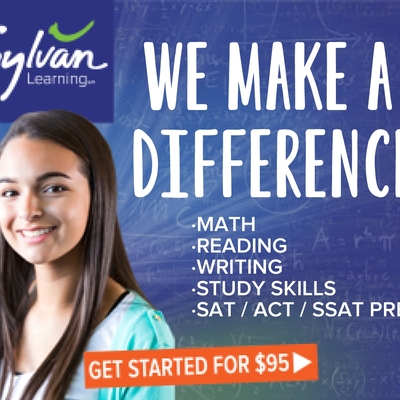 The Sylvan Learning of Hamilton provides customized academic coaching & tutoring to students in grades K-12 & college.
We utilize State Certified teachers in combination with individualized instruction & learning plans in :Math, Reading, Writing, SAT Prep /ACT Prep, Study Skills, Science, standardized test prep & homework help. We work with students who are looking to catch up, keep up, or get ahead. We also help students that have been diagnosed with ADHD, poor working memory, Auditory Processing challenges & more.
In combination with our State Certified Directors and credentialed teachers, our system allows each student to succeed academically through an individualized learning plan developed from our comprehensive skills assessments & consultation with center staff. As a team, we work to increase the confidence, motivation and independence of the students we coach, providing them with skills that will last a lifetime.
At Sylvan, we provide:
- A personal learning plan taught by Sylvan teachers using the iPad as a teaching tool for a more engaging and interactive learning experience.
- We teach & engage students in lessons that adapt to your child's individual skill level and pace, so learning is challenging, yet never frustrating.
- Instant feedback and recognition is given to each student.
- MySylvan.com is a parent's personalized Sylvan website (for Math, Reading & Writing), with up-to-date progress tracking for their students, plus educational activities and resources. SylvanSync combines Sylvan's proven teaching method with the technology of today--leading your child to a future with limitless possibilities.
1:1 SAT & ACT Prep:
Our SAT & ACT prep program is instructed by Sylvan teachers on a 1:1 basis. Our program begins with a diagnostic test to assess the student's score along with strengths & weaknesses to create a starting point of reference for our prep together. Additionally, the practice test results will be entered into an online portal (www.SylvanPrep.com) which helps students further reach their test prep goals by having access to 24/7 expert instruction using a video-based delivery platform. It provides strategies and support when students are in between prep sessions in center.
Our center is open 6-7 days per week for instruction including Summer! For more information about our programs, please call us 609-588-9037, visit www.SylvanLearning.com or email [email protected]
Age Groups
Community Services

Arts & Recreation

Community

Education

Health Services

Behavioral / Mental Health

Intellectual and Developmental Needs

Payment Options
Areas Served

Mercer County
Middlesex County
Last Updated: 12/19/19